You'd Better BEARlieve It
October 12, 2020 / updated April 2, 2020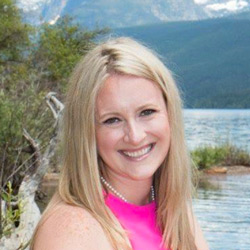 If you are visiting Southeast Alaska one of the first questions you might be asking yourself is, "where can I see bears in Alaska?" Well, look no further, as I am here to guide you on exactly how to make that happen. From Skagway to Ketchikan to Juneau bear viewing tours, we have you covered. To begin your trip planning, I should mention that bears are most prominent in the months of July through September (information from Natural Habitat Adventures), so please keep that in mind as you peruse our Alaska bear adventures!
First things first, we can never predict or guarantee ANY wildlife sightings during your trip or on your excursions with us! We strive to give back 5% of our sales to charity, this year to the Alaska Conservation Foundation, and we love protecting Alaska and every creature inside of this glorious State. Please remember, do not approach or interact with any bear you spot along your journey!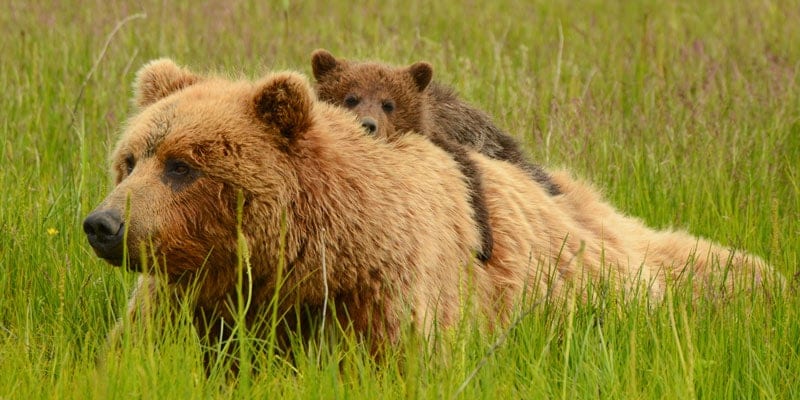 Experience the thrill of seeing wild bears in Alaska! Nothing quite compares to the thrill of catching your first glimpse of an Alaskan brown bear.
---
Skagway, Alaska Bear Adventures
Our first stop along our search for the perfect Alaska bear adventures takes us to the northern tip of the inside passage. Skagway Alaska, a historic gold rush town, is surrounded by vast wilderness and just a short drive from Canada's famous wilds, the Yukon Territory. All this untamed land, combined with moa more arid climate (less dense trees), makes Skagway a wonderful spot to spy your bears in Alaska!
What better way to see bears in Alaska than a safari? This full-day wildlife excursion is a spectacular opportunity to see not just bears in Alaska, but a multitude of famous Alaskan critters, from otters to eagles! You will start this adventure with a fast ferry ride over to picturesque Haines, Alaska. This tour is a new addition to our list in 2018! Highlights include exploring alongside the Chilkoot River where huge salmon runs create a feast and an excellent opportunity for bear viewing, a tour of historic for Seward, and a picnic lunch on the beach for more wildlife opportunities. This tour is a truly special, small group Alaska bear adventure via bus, with plenty of opportunities to explore the Chilkoot Valley and quickly get out to take pictures if you spot any wildlife! (From a safe distance of course!)
Price: $$
Duration: 6.5 hours
Activity Level: Mild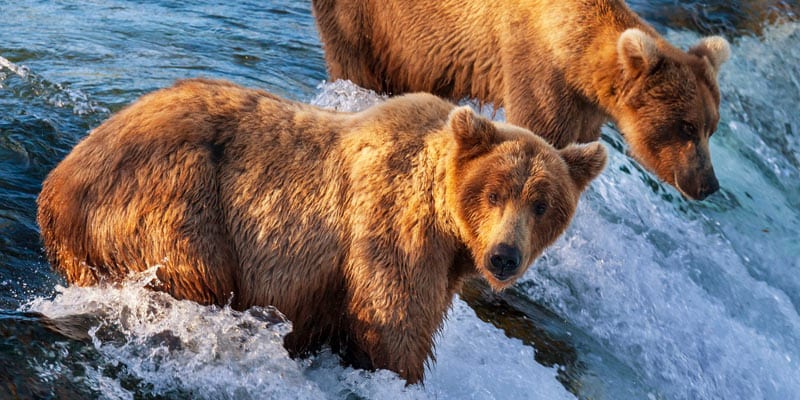 It's all in the name. Skagway's Wildlife Safari and Bear Viewing tour is a perfect tour to see Brown bears doing what bears in Alaska are known to do: eating salmon!
---
If you'd like a little more history to go along with your Alaska bear adventures, check out the scenic and culturally rich Yukon Discovery tour! Both the Yukon Discovery and the Yukon Discovery & Sled Dog tours will take you along the famous Klondike Highway into Canada and the to legendary Yukon! This beautiful scenic drive is favorable for bear sightings. Last time I took it, I saw mama black bear and her 2 cubs hanging out in a tree! Personally, these tours are among my favorite for the opportunity to see bears in Alaska, the comprehensive sightseeing experience, and the low price point.
Price: $
Duration: 6.5 hours
Activity Level: Mild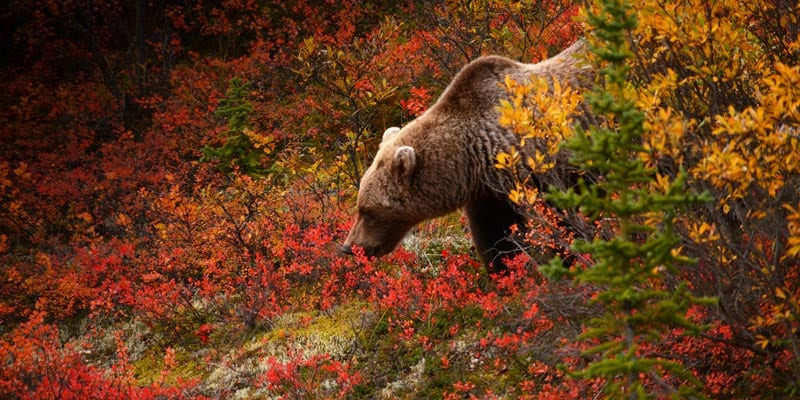 With it's high elevations and drier climate, Canada's Yukon territory is prime for spying bears through the less-dense trees!
---
Juneau Bear Viewing
Juneau: Alaska's historic capital city, a prime area for glacier viewing, and an ideal location for Alaska bear adventures. As such, Juneau bear viewing has to be among my favorite areas for its excitement, exclusivity, and adventure. While we only offer one true tour Juneau bear viewing tour, trust me, it's worth booking this one early!
The quintessential experience of Alaska bear adventures comes out of Juneau. Pack Creek is the prime spot for Juneau bear viewing as Admiralty Island has a 1 Alaskan brown bear per square mile, and Pack Creek is where they all go to feed! As such, the Admiralty Island Fortress of the Bears Kayak is by far our most exclusive tour. Only 24 guests can enter this territory per day during peak bear season, making for truly special & wild Alaska bear adventures! So, my suggestion here is to book as early as possible, because this Juneau bear viewing tour is worth the price tag.
You will board a float plane for the 25-minute flight to Admiralty Island for Juneau bear viewing at Pack Creek, where you can view Alaskan brown bears in their natural habitat. Next, you will kayak along the coastline toward your next bear-viewing destination keeping your eyes out for various other wildlife sightings, because it would be a true Alaskan adventure without a few eagles! This incredible Juneau bear viewing tour even includes a delicious picnic lunch and concludes with float plane ride back. (Prime Juneau bear viewing time is July through August).
Price: $$$
Duration: 8 hours
Activity Level: Moderate-Strenuous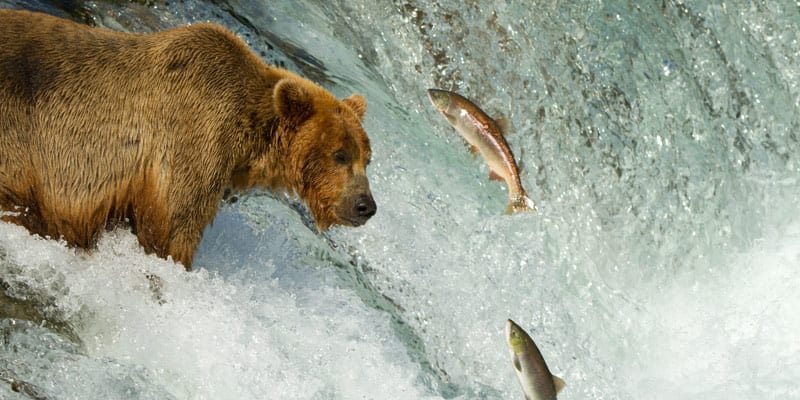 ---
Ketchikan Bear Opportunities
After your Juneau bear viewing experience, our last stop on the journey is Ketchikan! Known as the "Salmon Capital of the World," Ketchikan is a prime lunch spot for bears in Alaska, making it the perfect place for more Alaska bear adventures.
Ketchikan is known for 2 things: salmon and flightseeing, both of which make seeing bears more likely! And this tour combines the 2 for the ultimate chance to see bears in Alaska. This excursion starts with a flightseeing journey over an awe-inspiring wilderness on a floatplane that has either a 6 person capacity or a 10 per capacity per flight, so everyone has a view! You will experience the Neets Bay Salmon Hatchery, where each year many thousands of fry begin their journey towards the ocean, before arriving at the famous Neets Bay Creek. Here, you'll have the chance to spot bears as they fish for salmon from the crystal waters! I definitely recommend remembering your camera for this one. (Note: this tour operates from mid-July through September, prime bear viewing season!)
Price: $$-$$$
Duration: 3 hours
Activity Level: Moderate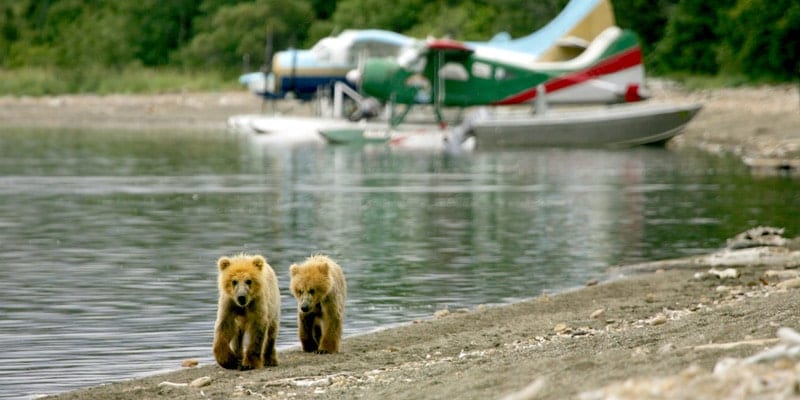 Your Alaska bear adventures are best served with a side of solitude. Floatplanes are the perfect way to get your group out in the wilderness with Alaska's wildlife.
---
Our final excursion, on which you may see those bears in Alaska you've been dreaming about, brings together budget-friendly travel and ample wildlife opportunities! This tour is one of the best options for keen bird watchers and wildlife enthusiasts of all ages. Located just eight miles from Ketchikan along a scenic coastal drive, the 40 acre Alaska Rainforest Sanctuary is a private reserve home to abundant bird and animal life. Here, you will experience major salmon runs in Eagle Creek due to the hatchery, so depending on the time of year you may be able to spot a hungry black bear meandering through (like the one pictured below!)
Price: $
Duration: 3¼ hours
Activity Level: Mild-Moderate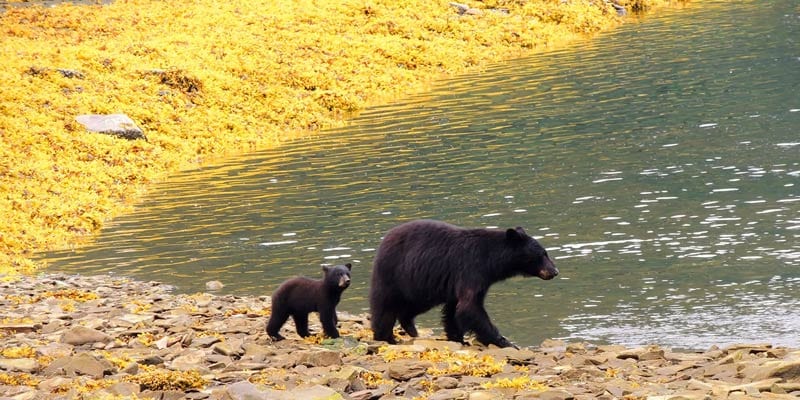 Brown bears aren't the only species of bear lumbering around alaska! Black bears are also very common throughout the last frontier.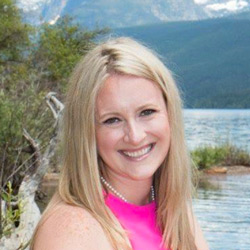 Jordan P
Helping Make Your Alaska Travel Dreams Come True
Jordan is our tour guru, originally from upstate New York, who moved out west for the mountains. She lives for wine, high heels, and a good piece of pizza.